Shadow of the Hummingbird
The Sunshine Boys
♦
by Neil Simon
May 12-15 and 19-22
Welcome to the Season of Laughter! With the shadow of COVID-19 still looming over us, the Westcliffe Center for the Performing Arts is devoting our 2022 season to Light and Laughter.
First up – Neil Simon's classic comedy, The Sunshine Boys!  Starring local favorites Tom "Frosty" Frostman and Dan Heister, the Sunshine Boys celebrates the reunion of two old vaudevillians.
---
WCPA Ten-Minute-Plays
2020 Finalist Performances
September 2022
The Westcliffe Center for the Performing Arts (WCPA) announces the winners of its 2020 Ten-Minute-Play Competition, the organization's eighteenth play competition. The WCPA Play Competition is dedicated to showcasing new works by playwrights and is sponsored by the nonprofit Westcliffe Center for the Performing Arts in Westcliffe, Colorado.
The winning plays in the 2020 Ten-Minute Play competition will be produced on September 23 and 24, 2022, at 7 p.m. We had 50 entries in 2020, which we winnowed down to six finalists:
Calvin in the Library, Gerald Williams, Vancouver, BC, Canada
The Stoolie, Seth Freeman, Pacific Palisades, CA
Little Carbon Footprint, Donald Ralph Lampton, Lexington, KY
Movie Reel, Jack Rushton, Newbury, MA
Madera Canyon, Kathleen Cahill, Salt Lake City, UT
It is an Ancient Mariner, Steven Doloff, New York, NY
---
Sponsorships and Donations
The Westcliffe Center for the Performing Arts depends on donations, sponsorships, and other forms of support from individuals, foundations, and businesses. Put your name or your company's name up in lights, get noticed by our 3,000 audiences each year. To find out about available sponsorships for shows, events, and more, please contact us. If you wish to become a sponsor now, please click on the Sponsor button below and fill out the Sponsorship Form.
Please visit the Support Us page to learn about the many important ways in which the community, individuals, and organizations support the Westcliffe Center for the Performing Arts and the Jones Theater. Your donation will help the WCPA with staging Shakespeare performances, plays, and youth activities, and ongoing improvements in Jones Theater facilities. The pages of this website provide additional information, images, and discussions of our work.
2022 Coming Attractions
at the Jones Theater
Adults, $9; Kids 12 & under, $6;
Seniors, $8; $1 discount Sunday Matinees
---
The 2022 Season
At the Historic Jones Theater
and Park Amphitheater
Events | Plays | Youth Activities
May
The Sunshine Boys
by Neil Simon
Thursday, Friday, Saturday, May 12-14, 19-21, 7 p.m.
Sunday matinees, May 15 and 22, 2 p.m.
June-July
Anne Relph Memorial Golf Tournament
June 17
More info and registration
Twelfth Night, or What You Will
By William Shakespeare
Fridays, June 10 and 24, 6 p.m.
Saturdays, June 11, 18, July 2, 6 p.m.
Sunday Matinees, June 12 and 16, 2 p.m.
The Misanthrope, or The Cantankerous Lover
By Molière
Fridays, June 17 and July 1, 6 p.m.
Saturday, June 25, 6 p.m.
Sunday Matinees, June 19 and July 3, 2 p.m.
Creativity Camp
A summer class for youth ages 7 to 13.
July 5-15, 9:30-12:30
Additional Information
September
WCPA Ten-Minute Play Competition Performances
Friday and Saturday, September 23 and 24, 7 p.m.
Additional Information
October
Bell, Book, and Candle
By John Van Druten
Fridays and Saturdays, October 21-22 and 28-29,  7 p.m.
Sunday Matinees, October 23 and 30, 2 p.m.
In Concert Presents: Rastrelli Cello Quartet
Sunday, October 24, 2:00 p.m.
Additional Information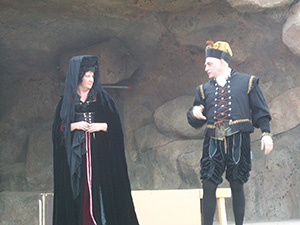 Twelfth Night, or What You Will (2009)
♦
2022 Shakespeare in the Sangres
Westcliffe Center
for the Performing Arts
Imagine an evening of Shakespeare in an outdoor amphitheater, watching the sun set over the Sangre de Cristo Mountains as you enjoy a family picnic on the lawn followed by a superb performance. Come early, bring your chairs, blankets, and picnic. Put these performances on your 2022 calendar for July now!
Twelfth Night, or What You Will – One of Shakespeare's most famous and beloved comedies, Twelfth Night tells the tale of Viola, a young gentlewoman of Messina shipwrecked on the shore of the fantastical country of Illyria. She disguises herself as a boy in order to gain a position in the court of Illyria's ruler, the lovesick Duke Orsino. Here, her wit, her ingenuity, and her heart are taxed to the utmost when Viola finds herself falling in love with the Duke while being tasked with wooing the Countess Olivia on his behalf. Romantic intrigues, mistaken identities, danger, duels, high-flown witticisms and lowdown hijinks – whatever you will, Twelfth Night has something for you. Included in Season Ticket
The production is scheduled for Fridays, June 10 and 24, 6 p.m.; Saturdays, June 11, 18, July 2, 6 p.m.; Sunday Matinees, June 12 and 16, 2 p.m.; at the Silver West Feed Store Park.
Adults, $20; students (18 and under), and active military, $15; kids (12 and under), $5.
Tickets are available at the WCPA office and at
Candy's Coffee and other local outlets.
Performance and Ticket Information
---
---
Westcliffe Center for the Performing Arts
and the Historic Jones Theater
General Info: 719.783.3004
Ticket Info: 719.783.3004
Email
WCPA/Jones Theater Address
119 Main St. • PO Box 790
Westcliffe, CO 81252
WCPA Theater Ticket Outlets
Candy's Coffee Shop • 719.783.9516
106 So. 2nd Street • Westcliffe, CO
Arterburn Fine Arts • 719.783.2099
409 Main Street • Westcliffe, CO
---
Call for Shakespeare Volunteers
Each season WCPA /Jones theater welcomes new actors, musicians, and costumers for our Shakespeare in the Sangres productions. There are always a number of small and sometimes larger roles to fill, especially for men. If you have always wanted to try your hand at acting in Shakespeare this is your chance. We also have a large costume shop but we always need volunteers to help choose, make or remake costumes for our productions. If this sounds like an interesting opportunity for you to get involved in these exciting productions, please email your availability, willingness, and experience, and we will be in touch. Who knows you might become one of our newest stars!
---
NOTICE: Online ticket sales for 2022 are currently unavailable.
Our original online ticket sales provider, Diamond Ticketing, went out of business owing to Covid-19. The company has been purchased by AdventureTix, which will provide ticketing services. As soon as the transition to the new provider is completed, online ticketing will resume. Other options are being pursued as well. Meanwhile, please contact the WCPA office at 719-783-3004 or by email (wcpa@jonestheater.com) for ticket information and sales.
---
2021-2022 Jones Theater Attendance Policies and Tickets
Attendance for performances in the Jones Theater will be limited to 50 seats to enable the audience to spread out in the theater. Also, we encourage everyone to wear masks until seated; during the performance, those who have been fully vaccinated need not wear them but nonetheless are encouraged to do so. Masks will be available at the theater.
Only 50 tickets will be available, first-come first-served. Tickets will be sold through the box office, which will be open at set times. Or you can call the WCPA office, reserve tickets, and come by to pay for them. For further information or to reserve your tickets, please call 719-783-3004 or email wcpa@jonestheater.com.
Ticket prices are the same for both Jones Theater and Shakespeare in the Sangres performances: Adults, $20; students (18 and under), and Veterans, $15; kids (12 and under), $5.